Outdoor Living at Work: Increasing
Work-Life Balance
Work-life balance starts at work - more and more companies are recognizing this and attaching importance to increasing the well-being of their employees. The background is obvious and offers not only advantages for the workforce, because only highly motivated and balanced employees are able to achieve top performance.
Companies often offer their employees a place to relax within the company building, in the form of a break room or canteen. Additional added value is created by a suitable design of the outdoor area. Employees thus have various options for spending their break. The right sun and weather protection concept creates an outdoor break room that can be used almost regardless of the weather and season. In summer, markilux awnings (systems) protect against sun and heat. But also in the other seasons nothing stands in the way of using the outdoor area. With the right planning and configuration of the awning, employees are protected even in wind, rain and cooler temperatures. The markilux team : project has extensive experience in this area, so that perfect and individual planning, adapted to the requirements of the company, takes place.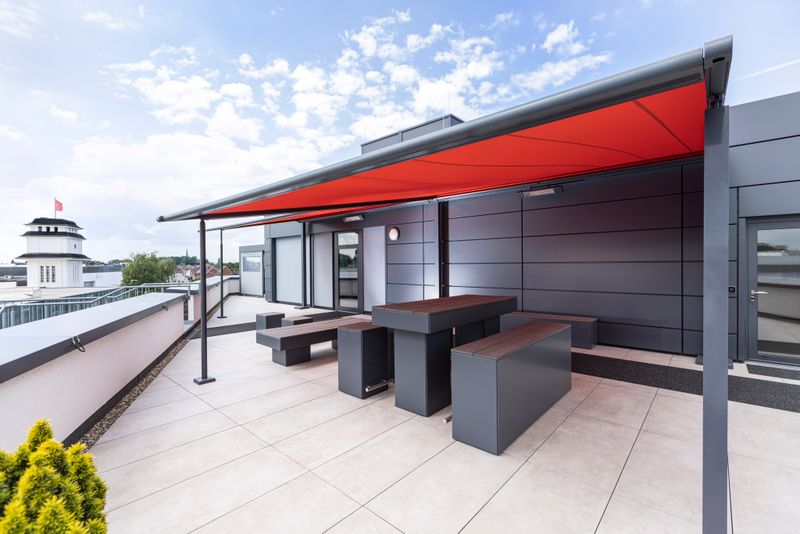 To increase concentration and performance, it is advisable to create distance from work during breaks. When the desk or work location is left, thoughts drift away and a real switch-off becomes possible. By offering an outdoor break room, employees have a variety of options for organizing their break. In the fresh air, energy stores are replenished thanks to a sufficient supply of oxygen. Concentration improves and provides new motivation for the second half of the day.
By providing an outdoor break room, the employer creates a new communication hub for the company. Employees from different departments meet there and come into contact, can exchange professional and private information and enjoy the break together. The cross-departmental use of the outdoor area creates a "we" feeling that strengthens internal cohesion and employee motivation.